Are you looking for an

electronic laboratory notebook

?

Yu-Note

is for you.




Are you tired to look into multiple excel files to

find information on your samples

?

Yu-Store

will help you localise and find all the information on your samples.




Are you looking for a

molecular biology tool

?

Yu-Design

verifies your cloning processes,

Yu-Clone

registers plasmid preps and glycerol stocks, analyses sequencing results. Are you more into synthetic biology?

Yu-Golden Gate

deals with all insert combinations and creates multiple plasmid maps in a few clics!




Are you working with a lot of

protein sequences

?

Yu-Protein

will help you register all your proteins, align them with an expected format,

Yu-Produce

tracks protein production

(cell lines, expression and purification conditions)
All our applications are fully integrated, so you can browse from DNA sequences to proteins, from sample location to your notebook... as easy as it sounds. Hosting services are provided by Yubsis, so everything is accessible online !
Yu-Note
The Electronic Laboratory Notebook by Yubsis
Data digitalization
Get rid of old-fashioned physical notebooks that needed to be securely stored and archived ! With Yu-Note, the precious knowledge of an organization is fully digital, is secured and always accessible.

Researcher Friendly
Yu-Note is intuitive and easy. Researchers can write their experiments using rich text and illustrate them with images and tables. As former researchers, our goal is to provide our customers with the tools to easily share and store their experimentation history and keep on with their good laboratory notebook practices.

Facilitate Teamwork
The main author can assign roles to his colleagues : co-author, readers, witness, etc and can decide to whom he wants to make each experiment visible, facilitating information sharing in the organization.
Secured IP
For IP purposes, the legal validity of your electronic documentation is critical. Within Yu-Note, we have built several layers of control in order to attest the validity of your research findings : user authentication, strict control of user rights, electronic signature process that results in a final pdf file, timestamping of the pdf, audit-trail capturing each step of the workflow.
Researcher-friendly
'Word'-like written interface
Create or paste tables
Link files related to your experiments
Choose participants and share experiments with your colleagues
Attached protocols (SOPs) which have been used
Link materials and equipment used
Status bar for immediate visualization of experiment status
Share experiment templates.
Easy to find experiments: table view and filters by experimenter, project, date, status etc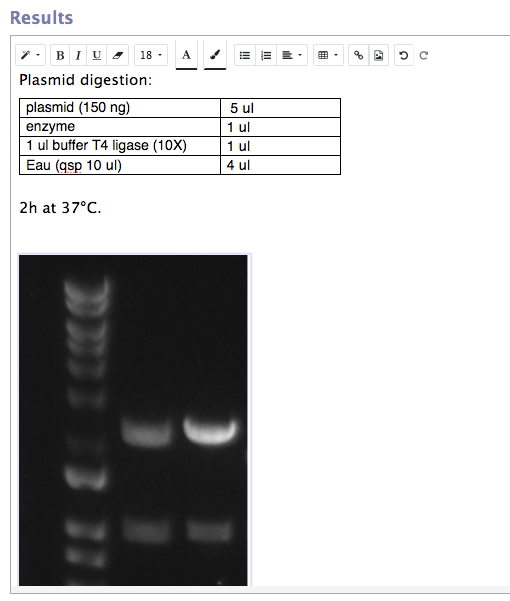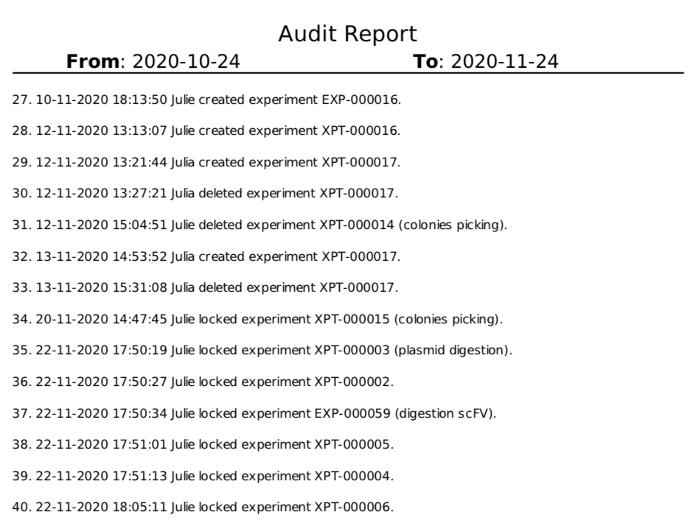 Secured data


To secure your intellectual property, experiments can be signed with electronic signature and timestamped.

Follow signature process

Choose writing and reading rights.

Provide comments / feedback on a colleague's experiment

Trace actions thanks to an audit trail which record processes step by step.

Export and print at any time the PDF report of your experiments.
Yu-Store
Inventory management
Track samples

Record and track samples : plasmid preps, protein batches, glycerol stocks, cells and more.
Create any material categories as needed
Never lose a vial: location can be precisely described and position in box is visualized

Find easily a sample, using name, alias, date, project or any registered characteristics.
Split batches in multiple aliquots and keep control.
Track deliveries and remaining volumes.
Track products from suppliers
Inventory of commercial products (consumables, reagents,...)
Full tracking of all stocks transactions: receipt, delivery, update, usage
Localize products or consumables in storage rooms, freezers, etc
Sub-stocks can be reserved to specific projets (cost centers)
Alerts on minimal stock threshold/expiry date
Register and associate security information
Re-ordering facilitated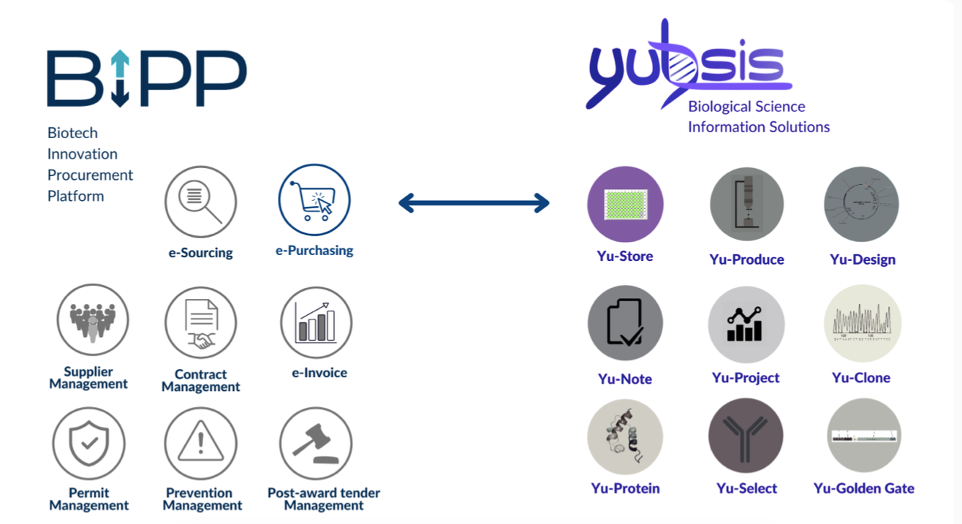 Connection with e-Procurement system
Yu-Store is connected to the biggest Belgian e-Procurement platform for Life Sciences: BIPP.
All the suppliers are localized in one marketplace so you can compare price and availability. When an order is placed, products are directly sent to Yu-Store where you can follow the order (planned, received, stored).
Fields which are automatically import from BIPP:
Product and associated packaging and units (items, ml, mg, etc)
Quantities

Supplier and manufacturer names and catalog numbers

Expected date/ reception date
Projects, cost centers
Price, etc...
The power of a relational database

Linking all samples to a project allows a quick overview of the steps achieved.
Powerful search and navigation engine across all the database.

Link between elements that derive from each other, for example a recombinant bacterial clone is linked to the plasmid used for transformation. Full lineage is generated automatically.

Trace the history of a sample : date of creation, creator, construct name, volume, deliveries, ELN reference, etc.

Yu-Design
Design plasmid maps
Design your plasmids

Sequence v isualization of circular and linear DNA



Customize view : preferred set of enzymes, features, primers for PCR and sequencing, ORFs



Import your plasmid in .gb format or copy/paste your DNA sequence


Adapt origin, edit sequence (deletions, additions, substitutions) without errors



Use automatic annotations : specific sequences are automatically recognized as plasmid features



Link plasmids to project, and all derived products such as plasmid preps, glycerols stocks, cells, proteins, aliquots, etc.
Verify cloning process and avoid errors
Cloning processes can be simulated to avoid errors . Inserts may come from plasmid restriction, DNA synthesis, or PCR amplification.
Available cloning options: classical ligation, infusion, yeast recombination, Golden Gate.

Automatic creation of the new plasmid molecule.

Create a preferred sets of enzymes that can be used for several plasmids.

Keep history of your constructs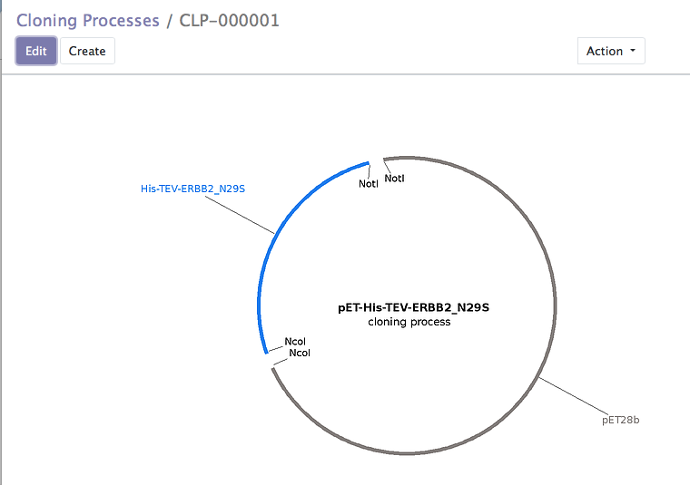 Yu-Clone
Track samples and

Analyse DNA sequence

Analyze sequencing data

Gather all your primers in the same tab and automatically find information such as melting temperature, GC content, length, molecular weight, and more.

Find in one click if you already have adequate primers in your lab. Yu-Clone helps you in the design of additional primers.

Compare sequencing results to theoretical plasmid. Yu-Clone helps in the identification of mismatches and enables manual correction if necessary.

Automatic filling of 'status of analysis' , depending on sequencing results (invalidated, partial, validated)
Yu-Golden Gate
Easy synthetic biology
MoClo (Modular Cloning)
Yu-Golden Gate helps you to work with MoClo toolkit standards, such as the classic MoClo tool kit, CIDAR MoClo parts, MoClo yeast tool kit, MoClo Plants tool kit and MoClo Pichia tool kit. It also enables you to design your own standard, with the personalization of fusion sites and assembly models. Consistency of your standard is verified automatically.
Automatic identification of Golden Gate parts in your plasmid molecules
Get in one click all the parts compatible with specific fusion sites and type-IIS restriction enzymes.
Get in one click all the compatible acceptor vectors.
Combinatorial in-silico cloning : Yu-Golden Gate verifies and creates all the plasmids molecules you desire in few clicks.
Calculated volumes of each parts are ready to be sent to your favorite pipetting robot.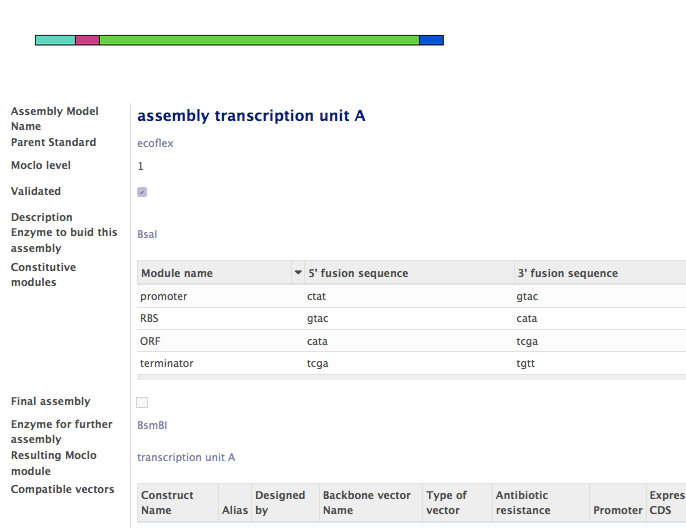 Yu-Protein
Register all the proteins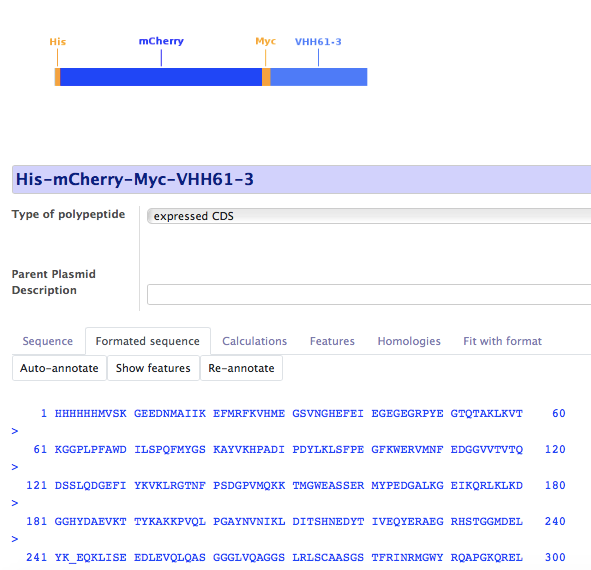 Yu-Protein is a Biologics Registration system. It has advanced features for protein format description and analysis. They are especially useful for antibody sequence analysis, but apply to any Biologics, without limitation.

Automatic protein translation and annotation
New proteins are compared to existing ones to ensure uniqueness and a new Compound Number is attributed.
Analysis of protein sequence is made according to the declared format. In the case of an antibody, the closest germline sequence is found and CDRs are identified based on the alignment.

Relational database: Coding sequence is automatically deduced from your expression vector.
Yu-Produce
Track protein expression, purification and characterization
Consolidation of your protein production data
Specify your expression system: bacterial, mammalian cell lines, yeast, hybridoma or recombinant hosts.
Indicate expression results (concentration of produced protein, volume, etc).
Enter purification steps, buffer used, final concentration of protein batches, tag cleavage.
Share data within a group of scientists through a single database.
Create aliquots and store them in various locations.

Yu-Project
Manage your projects

Monitor process in real time

Create projects and assign manager
Create as many work packages and tasks as desired for your workflow
Quickly visualize with color marker which step is completed, ongoing or planned.
Documents and links can be attached to each task.